Here's a video on which you can hear Hema and Ravi's voices, and Ravi has the camera:
Ravi walking around the upstairs, and you can see the other food.
Another couple of families showed up after this. This is the thinnest the group ever was, I think. These videos are good for voices, but the biggest thing was the smell!!
The next two are from Holly's point of view, so you can see Ravi:
Robin's camera: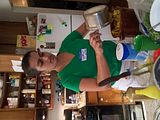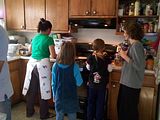 Ravi's: